Nearly a fifth of the world's 100 richest billionaires made their fortune in tech. And although some of their success stories start off modestly (and most likely in a garage), many tech moguls are taking their millions and splurging on real estate.
For instance, Amazon founder Jeff Bezos and Microsoft's Bill Gates live less than a mile from each other in the waterfront city of Medina, Washington, and own two of the country's most expensive estates.
Los Angeles is also another popular spot for tech moguls: Snap CEO Evan Spiegel and his wife, Miranda Kerr, bought their Brentwood home overlooking the city for $12 million, while Elon Musk's Bel Air abode boasts seven bedrooms, a giant screening room, and tennis court.
Click here to watch weekly episodes of our Housing Development Programme on AIT
Here's a look at some of the homes of the tech industry's elite:
Just outside of Seattle is the waterfront mansion of Jeff Bezos, the founder and CEO of Amazon. In the front, there's not much to see, with the gate and tall hedges blocking the view.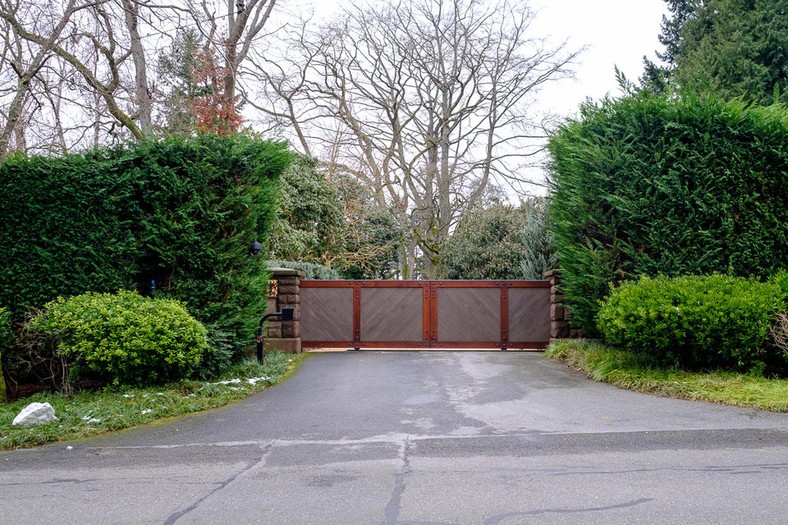 Bezos and his family, which isthe richest in the world, live in the tiny city of Medina, Washington, located just outside of Seattle. The sleepy town has long been a haven for tech bigwigs in the area, including Bill Gates and other Microsoft elites.
Bezos paid $10 million for the estate in 1998, which spans 5.3 acres and includes a 20,000-square-foot house, plus a second 8,300-square-foot dwelling.
The property then underwent a $28 million renovation in 2010, around which time Bezos bought the 24,000-square-foot house next door, which was rumored to have sold for at least $53 million.
The Amazon leader's estate is a big change from where he started the company: in the garage of his home in the Bellevue neighborhood near Seattle, Washington, seen here in 2013.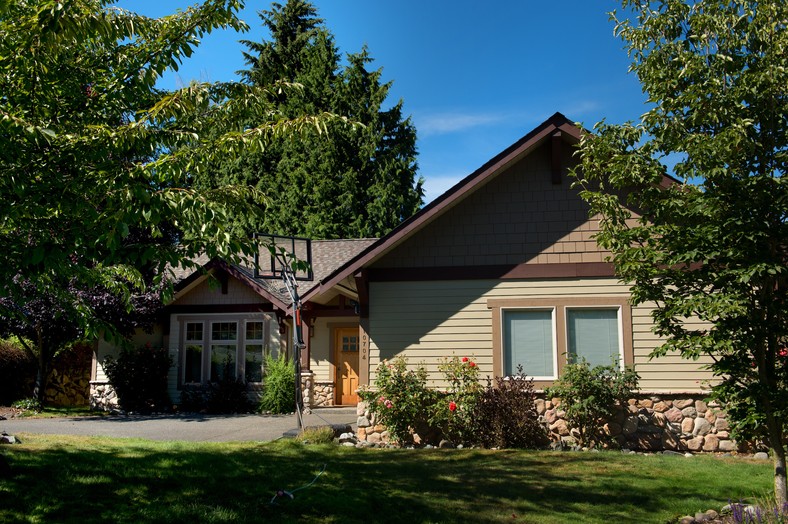 But Bezos' Medina home is not the only property he owns, because, well, he is the richest man in the world.
Bezos also owns properties in Beverly Hills, California; a ranch in Van Horn, Texas; a former textile museum in Washington, DC; and three condos in a historic Manhattan building overlooking Central Park.
This is Bezos's Spanish-style mansion in Beverly Hills, which he bought in 2007 for $24.45 million.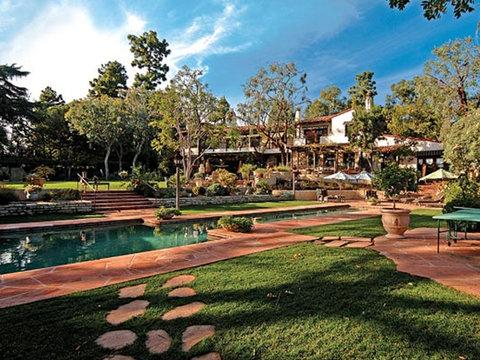 The seven-bedroom, seven-bathroom home is advertised by Dream Homes Magazine as having a greenhouse, a sunken and lighted tennis court, a huge swimming pool, four fountains, and a six-car garage.
But he didn't stop there: Bezos bought a smaller house just next door 10 years later.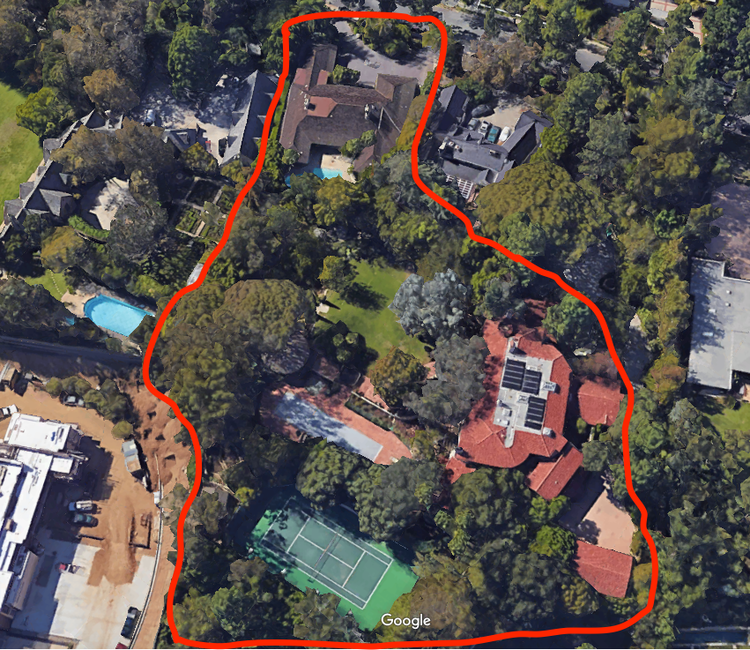 Apparently, the first Beverly Hills house did not fit Bezos' space requirements. In 2017, he bought a comparatively modest four-bedroom, 4,568-square-foot home for $12.9 million right next door to his first house.
Bill Gates lives about a half mile up the road from Bezos in Medina, in this $127 million compound he nicknamed "Xanadu 2.0."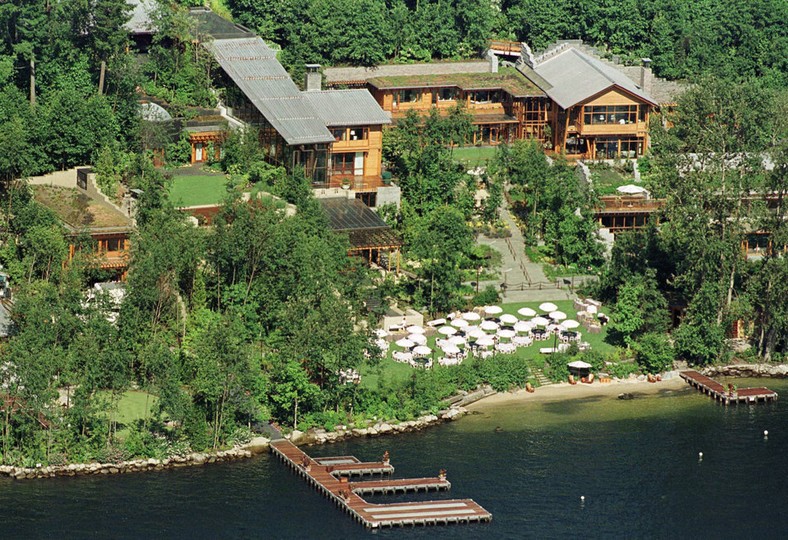 The 66,000-square-foot house is brimming with state-of-the-art technology, and has seven bedrooms and 18.75 bathrooms.
Gates purchased the lot for $2 million in 1988.
The Gates house has a 23-car garage, six kitchens, 24 bathrooms, and a reception hall that can accommodate 200 guests.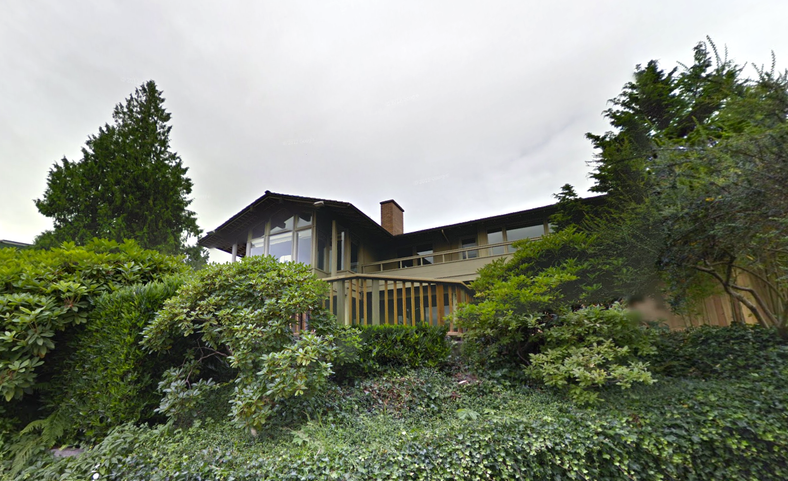 The house was built with 500-year-old Douglas fir trees, and 300 construction workers labored on the home 100 of whom were electricians.
It cost more than $60 million and took four years to build.
It also has a spectacular view of Lake Washington.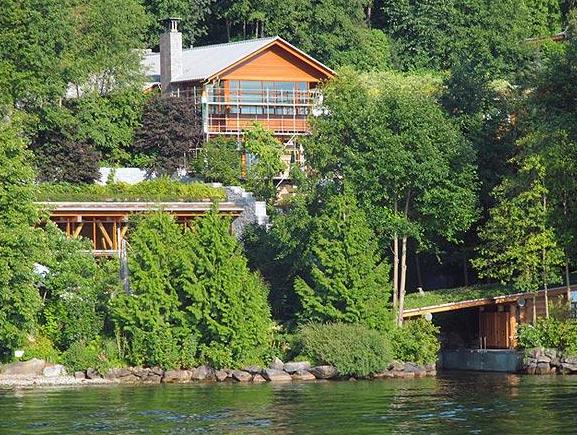 The home also comes equipped with an in-house theater, trampoline room, library, and a 60-foot pool with its own underwater music system.
Charles Simonyi also lives in Medina and on Lake Washington's waterfront. Simonyi is the former head of Microsoft's application software and oversaw the creation of the Office suite.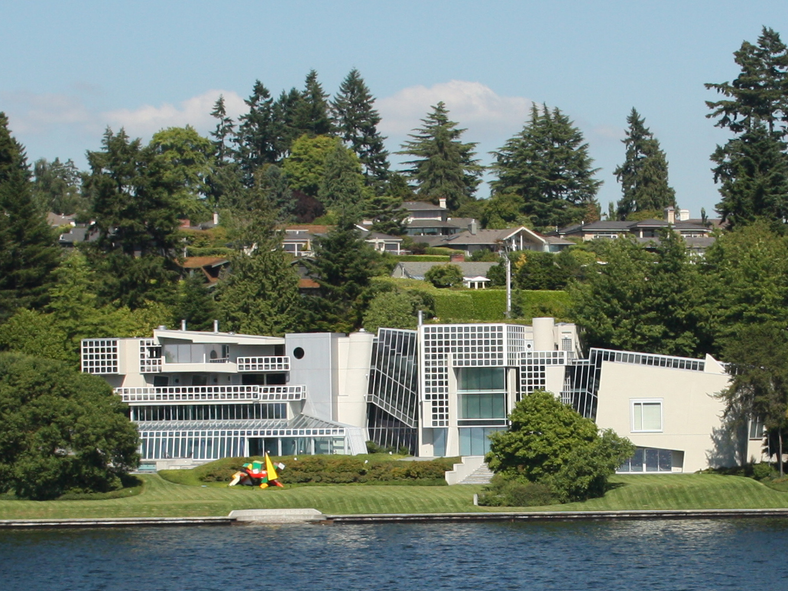 His house known as Villa Simonyi, or the "Windows 2000 House," because it has 2,000 windows.
Simonyi also has paintings by Roy Lichtenstein and Victor Vasarely.
Former Microsoft CEO Steve Ballmer, who owns the Los Angeles Clippers, lives in Hunts Point, just up the road from Medina.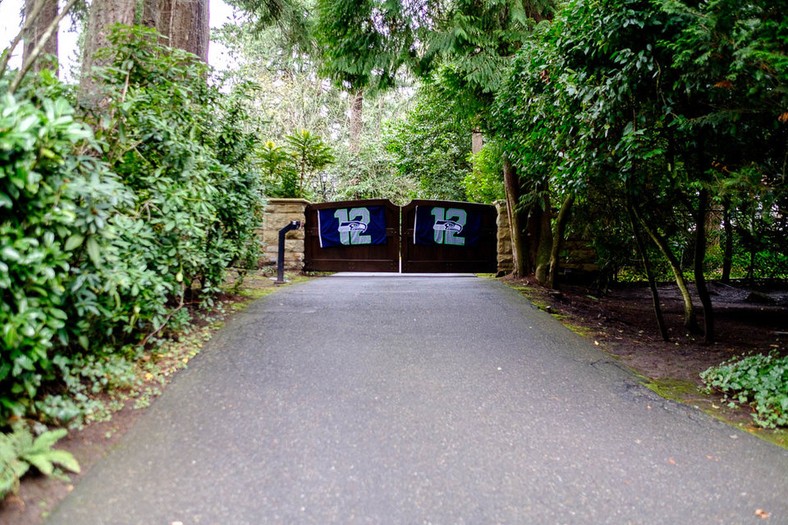 Ballmer's relatively modest house has four bedrooms and is located on two acres.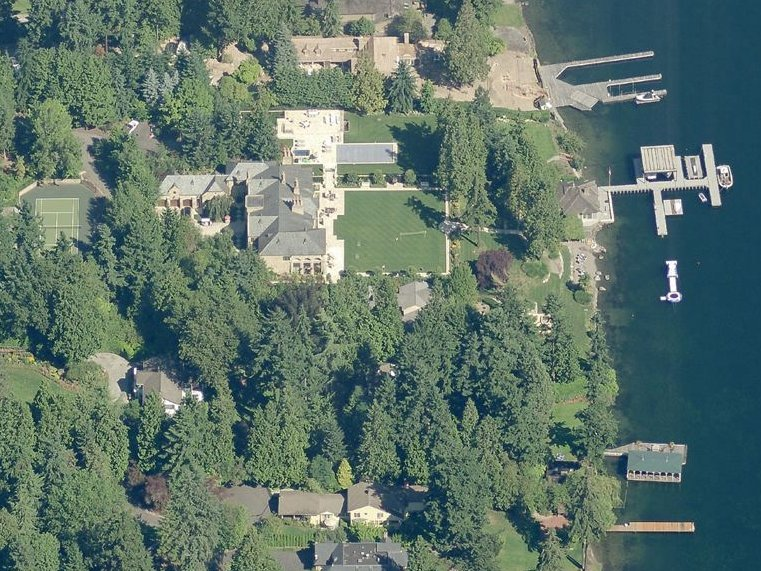 The selling price was rumored to be $26 million.
Twitter and Square CEO Jack Dorsey bought his San Francisco home for $9.9 million in 2012.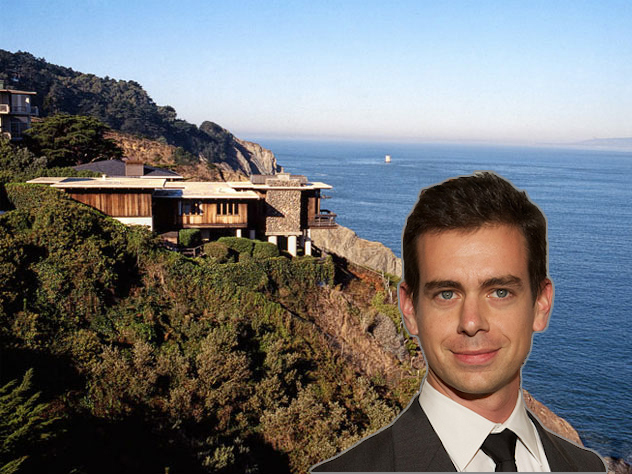 The modest 3,734-square-foot house, which has unobstructed views of the Golden Gate Bridge, is located on El Camino Del Mar in the exclusive Seacliff neighborhood of San Francisco.
It has two bedrooms and two bathrooms, and is estimated at $12 million.
Apple CEO Tim Cook lives modestly: He bought this 2,400-square-foot Palo Alto home in 2010 for less than $2 million.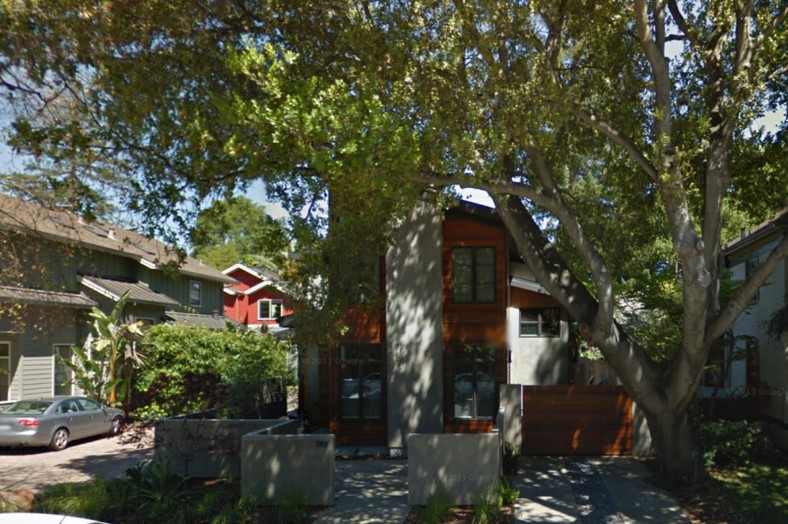 Cook is famously private, but does not exhibit the habits of other private tech elites in contrast, Mark Zuckerberg has historically bought the properties surrounding his homes for increased seclusion.
Cook has previously said, "I like to be reminded of where I came from, and putting myself in modest surroundings helps me do that. Money is not a motivator for me."
On the other hand some tech execs know a thing or two about extravagance: Evan Spiegel and Miranda Kerr bought their 7,164-square-foot home in Brentwood, California, for $12 million in 2016.
The home has city views, a pool, pool house, home gym, and guest house. It also has seven bedrooms and eight bathrooms.
The kitchen is full of white marble.
The 28-year-old billionaire and 35-year-old Australian model hosted an estimated 50 people for their wedding ceremony and reception in May 2017 at the home. They also welcomed a son eight months ago.
The house belonged to Harrison Ford for 30 years before he sold it in 2012.
Larry Page, cofounder of Google and CEO of Alphabet, bought a $7.2 million home in Old Palo Alto in 2005.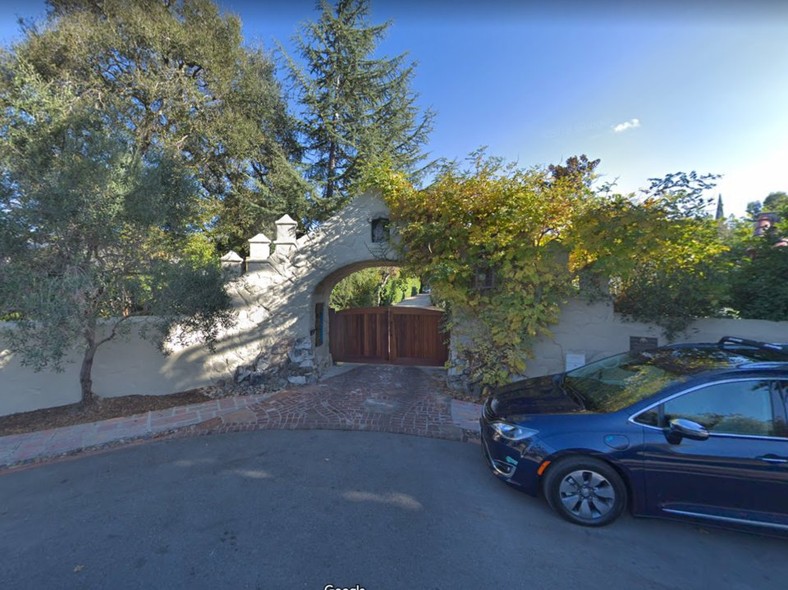 The home, which is listed on the National Register of Historic Places, was built from 1931 to 1941 for Bay Area artist Pedro de Lemos.
At 9,000 square feet, the two-story home was built in the Spanish Colonial Revival style. It's constructed of stucco and tile around a courtyard. Parts of the home were salvaged from a chapel that was partially destroyed during the 1906 San Francisco earthquake.
In 2009, Page started buying adjacent properties to construct an environmentally friendly estate.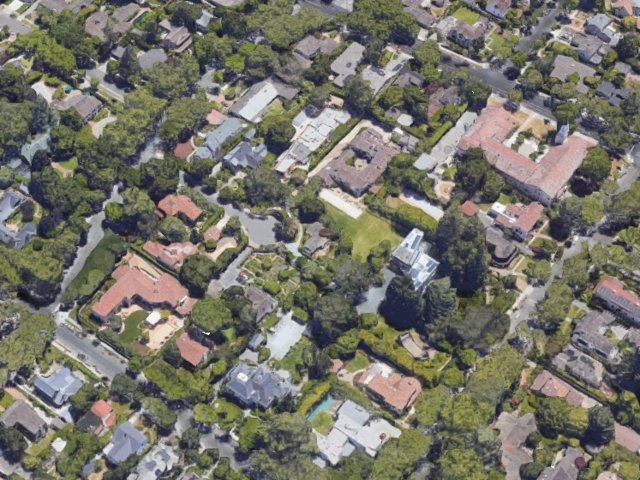 The 6,000-square-foot home has a roof garden with solar panels and four bedrooms.
Sometimes, Page's billionaire buddy Elon Musk, who doesn't own property in Silicon Valley, reportedly sleeps over.
Facebook founder Mark Zuckerberg reportedly bought his 5,617-square-foot home in Palo Alto, California, for $7 million in 2011.
He spent an additional $45 million on the four houses and land around it for the sake of privacy.
Zuckerberg's residence is apparently decked out with a "custom-made artificially intelligent assistant" named Jarvis.
The home has some awesome features, too: heated floors, a deep-soak tub, and a kitchen with a breakfast bar. It also has a pool and a pond.
Zuckerberg frequently posts photos of himself and his family on the porch seen above on Instagram .
Zuckerberg also purchased a 750-acre property on the North Shore of the Hawaiian island of Kauai, which includes 2,500 feet of white-sand beach.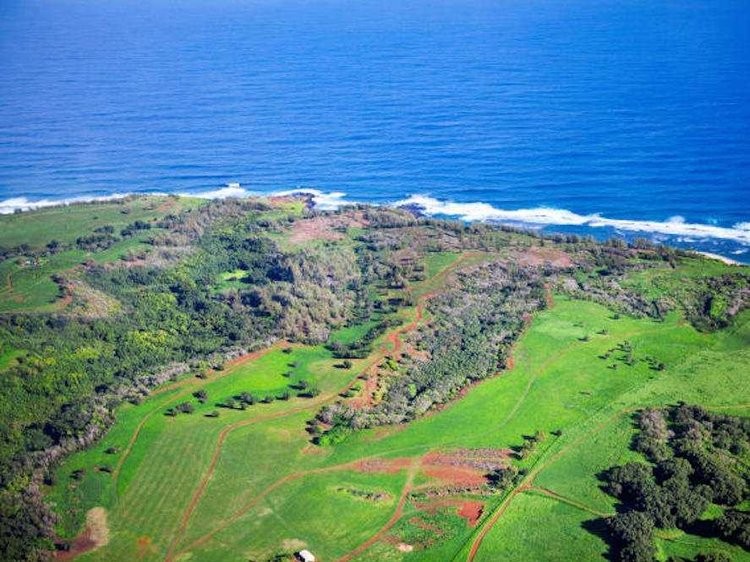 Zuckerberg paid a reported $100 million for both properties, though Forbes reported that he plans to build just one home.
Tesla founder Elon Musk paid $17 million for his house situated on a hilltop 1.66-acre plot in the ritzy Bel Air enclave of Los Angeles.
Sotheby's International Realty
The home overlooks the exclusive Bel Air Country Club and has 20,248 square feet of space divided into different wings. It has seven bedrooms, nine bathrooms, a giant screening room, home gym, a pool, and a tennis court.
The yard is fairly sprawling, and Musk and his five sons had reportedly lived in the house for three years before he bought it.
Sotheby's International Realty
Musk also bought a ranch home located across the street from the mansion for nearly $7 million in 2013.
Oracle founder Larry Ellison, on the other hand, owns more homes than he could possibly live in.
Bing Maps
His home in Woodside, California which is modeled after a 16th-century Japanese emperor's palace is worth an estimated $70 million.
The 23-acre estate took nine years to design and build, and it was completed in 2004.
The 74-year-old also owns a historic garden villa in Kyoto, Japan, which was reportedly listed for $86 million, though the price he actually paid is unknown.
When asked by CNBC in 2012 why he would buy more homes than he could possibly live in, Ellison referenced his love of art.
"I'm going to start these art museums that are basically converted homes, and I have one for modern art, and I have one for 19th-century European art, and one for French impressionism," Ellison said to CNBC.
Ellison's net worth is $59 billion.
Ellison's priciest purchase was in 2012 when he bought 98% of the Hawaiian island of Lanai.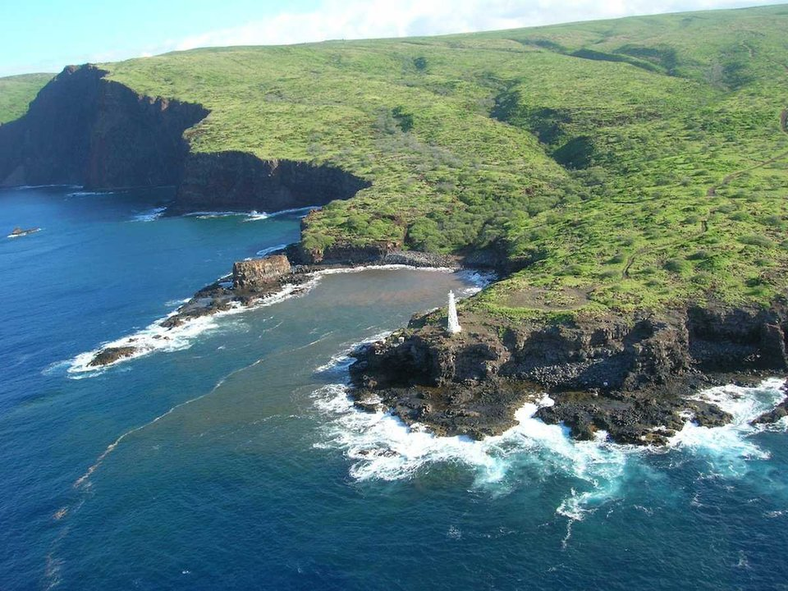 Since then, Ellison has purchased two airlines, refurbished the island's hotels, and started investing in clean energy sources. He plans to use the island as an experiment for environmentally sound practices.
Though the final price has not been disclosed, the Maui News put the asking price at $500 to $600 million, making it arguably one of the most expensive private islands in the world.
Turns out Zuckerberg and Ellison aren't the only tech execs fond of Hawaii: Micheal Dell, founder of Dell Technologies, spends his vacations at the "Raptor Residence" on the Big Island.
The 18,500-square-foot, seven-bedroom home in Hawaii was last valued at $62 million and is located in the private community of Kukio.
By comparison, the Dell family home, located outside of Austin looks more like a compound than the rest of the abodes of his billionaire buddies.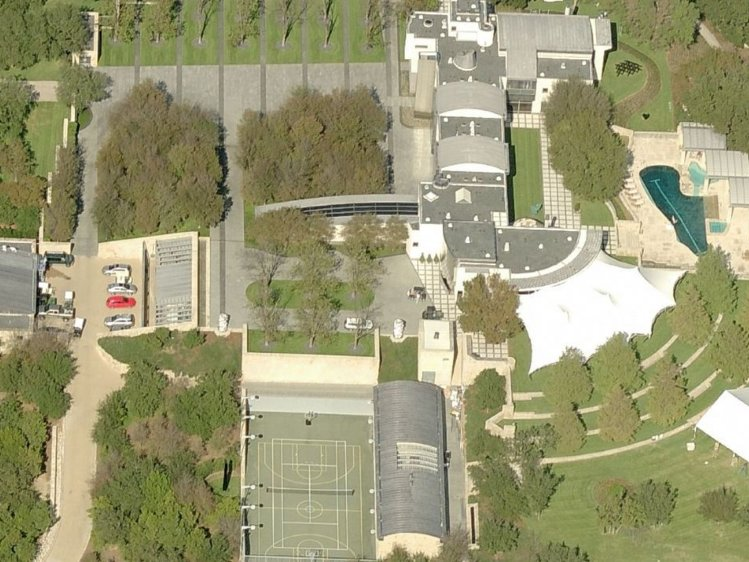 Bing Maps
The Dell family's 33,000-square-foot home outside of Austin is known by locals as "the Castle" because of its hilltop perch and heavy security presence.
The house boasts eight bedrooms, 13 bathrooms, a tennis court, indoor and outdoor pools, and gorgeous views of Lake Austin.
Dell also owns a wide variety of real estate in Hawaii, Mexico, and California thanks to his company MSD Capital, which invests in luxury hotels, commercial and multifamily properties, and land development. The company also it participates in other real-estate-development funds.
Marc Andreessen, the venture capitalist and inventor of the Netscape web browser, resides in a three-bedroom, four-bath California home that's valued at $24 million.
Andreessen's home is located in the Silicon Valley suburb of Atherton, across the street from the Menlo Circus Club a private social club that hosts horse shows, polo matches, and gala parties for the ultra-wealthy.
Former Yahoo CEO Marissa Mayer owns a relatively modest home in Palo Alto, which is estimated to be worth $5.2 million.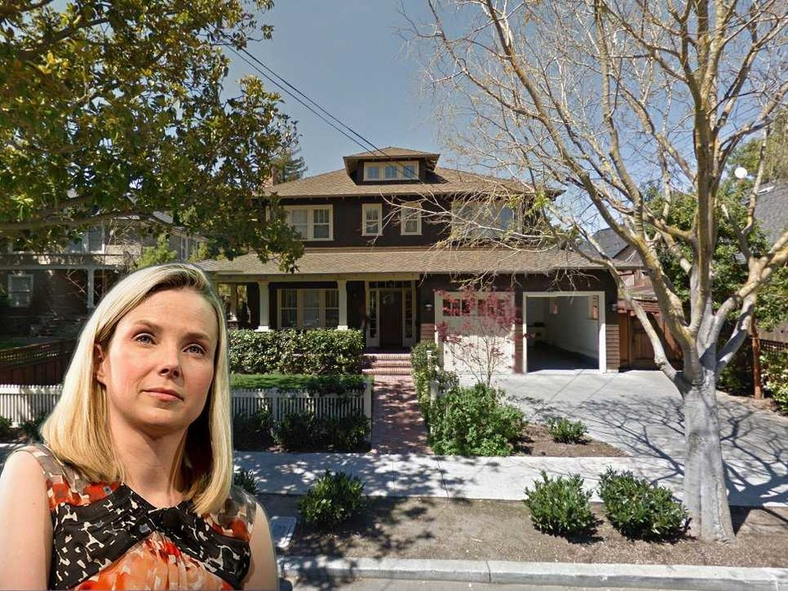 Located in the city's University South neighborhood, the five-bedroom house was meant to be a place to crash after late nights in the Yahoo office.
Mayer owns several miniature balloon dog sculptures by Jeff Koons, which she keeps in her kitchen.
Sergey Brin, cofounder of Google, bought a 3,457-square-foot Greenwich Village condo in 2008 for $8.5 million.
The home has 4 bedrooms, heated floors, and a sunlit living room. The home, which Brin bought with ex-wife Anne Wojcicki CEO of 23andMe, the $1.5 billion personal genetics company is also within walking distance of Google's Chelsea office.
The two-story, three-bedroom penthouse has a 1,200-square-foot wraparound terrace with views of lower Manhattan. The kitchen is outfitted with custom Moroccan tiles and top-of-the-line appliances.
Brin also has a home in California's Los Altos Hills at an undisclosed location. But if it's anything like his $80 million, 73-meter yacht, dubbed the Dragonfly, we can assume it is pretty elaborate.
Oracle CEO Mark Hurd's 6,410-square-foot home in Atherton, California, sold for just over $7 million in 2005.
The home has five bedrooms, 6.5 bathrooms, and was last valued at close to $8 million.
Sheryl Sandberg, Facebook's COO, moved into this modern, 9,200-square-foot mansion in Menlo Park, California, in 2013. It features a living roof, solar panels, and a huge basement.
The Daily Mail reported the Sandberg's home also has a basketball court, wine room, and home theatre.
The house isn't far from Facebook's campus either only a 20 minute drive. Sandberg sold her former Atherton home for $9 million in 2014.
Yuri Milner, an investor of Facebook, Twitter, and Spotify, bought this sprawling Silicon Valley mansion for $100 million in 2011.
However, the Santa Clara County Assessor's office declared Milner had overpaid, valuing the estate at $50.3 million.
The 30,000-square-foot French chateau-style mansion sits on 11 acres in Los Altos Hills and has views of the San Francisco Bay. The home has five bedrooms and nine bathrooms, as well as a ballroom, home theater, wine cellar, and indoor pool.
Former Google CEO Eric Schmidt bought his 7,000-square-foot Montecito, California, home from Ellen DeGeneres and Portia de Rossi in 2007 for $20 million.
The estate has a large backyard area with a swimming pool, a tennis court, and lots of Spanish-inspired decor.
Schmidt rented out the mansion to Kim Kardashian for her wedding to basketball player Kris Humphries in 2012.
He also owns homes in Nantucket and Atherton, California.
Travis Kalanick, cofounder and former CEO of Uber, is said to have bought a penthouse atop a Soho apartment building in New York City for just over $40 million.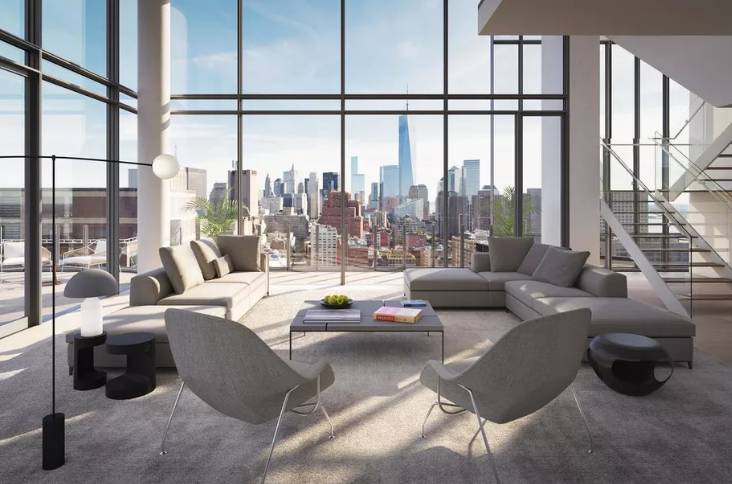 The Wall Street Journal reported in November 2018 that Kalanick was behind the purchase of the $40.5 million, nearly-7,000-square-foot property.
The home has four bedrooms, 4.5 bathrooms, floor-to-ceiling windows, and a 20-foot private rooftop pool on the building's terrace not to mention killer city views.
Source: Business Insider
Get real time update about this post categories directly on your device, subscribe now.